• Business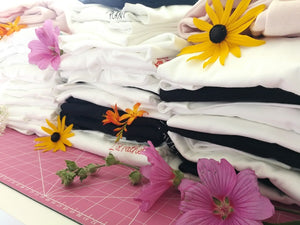 Sometimes t-shirts arrive from the manufacturer in an imperfect condition (usually teeny tiny little stray pieces of coloured cotton that get caught when they're manufacturing the fabric for the t-shirts). These t-shirts with tiny imperfections aren't used for making orders and they're not bad enough to be relegated to rags so instead I save them all up and use them to make samples for photoshoots.
---
• Business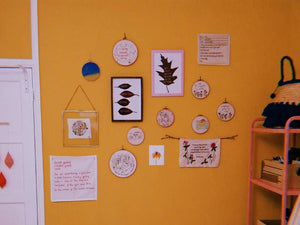 When someone shops with me, not only do I get the ever important validation that my products are good enough for people to spend actual money on; not only do I receive financial support from you, so that I can do my own Christmas shopping, or buy a tin of paint, or chip away at the mortgage; not only do I get to hand-make something special for you, and then package it all up and feel a little bit giddy knowing that the hand wrapped parcel will arrive on your doorstep and make you smile. But MOST of all, every time you shop with me, or with any other small, independent business, you are one small part of a larger collective that is acknowledging small and creative business as a legitimate way to live and support yourself and your family. By spending your money with an independent you are saying "YES, all those hours, months, years you have spent building your mini empire were worth it. You have created a business and a community that I feel part of and that I trust enough to give my own hard earned pennies to. Keep doing what you're doing."
---
• Business • Embroidery • Imposter Syndrome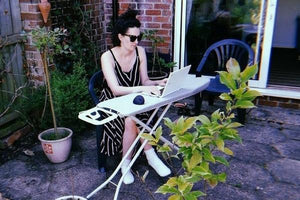 When I first started the business, embroidery was my hobby. It slowly morphed into a side hustle and now it's my full-time job. But when your hobby is also your source of income, it can be difficult to separate work from down-time...